Attention pre-meds: get ready for a doozy of a workout! Changes to the new MCAT mean that today's freshmen or sophomore pre-med students are already behind if they're not registered for pre-med classes each and every semester.
So what were the changes to the new MCAT?
There's a lot of what was on the old MCAT, just more. And there are new additions that translate to additional coursework. Some of the same biology, general and organic chemistry, and physics will stay, but you'll see some new classes in the lineup as well: cellular and molecular biology, plus genetics and biochemistry. Intro-level psychology and sociology courses will also be required. The MCAT's new emphasis on social sciences and humanities is meant to test students' ability to understand and communicate with patients, and show an understanding of important socio-cultural and behavioral effects on health. Research and statistics coursework will also be helpful, given the MCAT's sharper focus on these areas.
A welcome bit of news is what's missing in the new MCAT test: the second semester organic chemistry requirement, the emphasis on physics, and the writing section.
However, serious pre-meds will need to add to their skillset strong critical analysis and reasoning skills. An entire section of the MCAT will be devoted entirely to this area of competence. The new MCAT is divided into four sections, resulting in a test that's now nearly 6.5 hours long, where it used to be just 4 1/2 hours long. Lucky us!
Biological and Biochemical Foundations of Living Systems            95 mins.
Chemical and Physical Foundations of Biological Systems            95 mins.
Psychological, Social and Biological Foundations of Behavior            95 mins.
Critical Analysis and Reasoning Skills                                                            90 mins.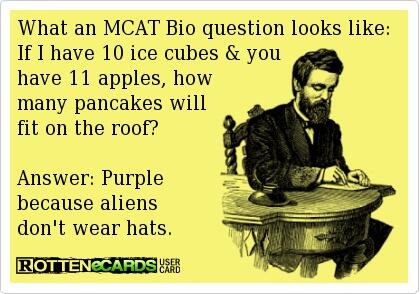 It's crystal clear with these changes to the new MCAT that today's pre-med students will have less time for electives unrelated to their major, and will thus need to begin taking pre-med classes from Day One. The emphasis on added science classes, as well as the new humanities and critical reasoning sections, mean it will be more difficult (but not impossible) for non-science majors to finish their undergraduate requirements in four years.
Click here to read what AAMC says about the new MCAT. Or read my post here about how the new MCAT will be scored. AAMC also has informational videos on its MCAT website to help students set their pre-med path wisely.